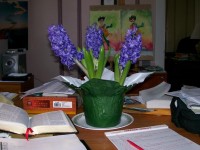 All week long, I've enjoyed the scent of this hyacinth as I worked. (It's also a welcome distraction from the messy desk, don't you think?) Spring is finally here, and not a moment too soon.
Congratulations to reader Jacqueline H., whose name was drawn in this past week's Giveaway. If you haven't won yet, keep trying. There are three more giveaways; this coming week's winner will receive a copy of my first book, Life Prep for Homeschooled Teenagers. You can enter that drawing here.
Have a blessed Easter, everyone!