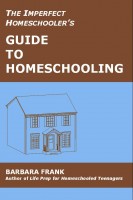 Do you feel like other people homeschool better than you do?
Do they seem more confident, more accomplished, more patient?
Do their houses look like model homes compared to yours?
No matter how it looks to you, there are no perfect homeschoolers. We all have our challenges as we do our best to teach our kids every day.
What's your biggest challenge when it comes to raising, educating and loving your kids 24/7? Leave your answer as a comment on this post by midnight on Friday, April 16, and you'll be automatically entered into a drawing for a brand new copy of The Imperfect Homeschooler's Guide to Homeschooling, a book packed with information and advice gleaned from my 20+ years of homeschooling.