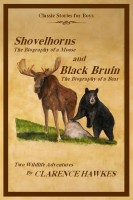 Our new book, Shovelhorns and Black Bruin, is selling like hotcakes! I think more and more parents are realizing that the classic books are the best; these novels by Clarence Hawkes (circa 1908-9) are definitely classics. With two classic novels in one book, it's also a great deal.
To celebrate, we're giving away a hot-off-the-press copy to a lucky winner, and it could be you! Just leave a comment here answering this question:
How do your children benefit from reading classic books?
By commenting, you'll be automatically entered in the drawing for this giveaway. Deadline for entries is midnight, August 19, 2010. Don't miss out: comment now!
8-20-10 Please note: contest is now closed.