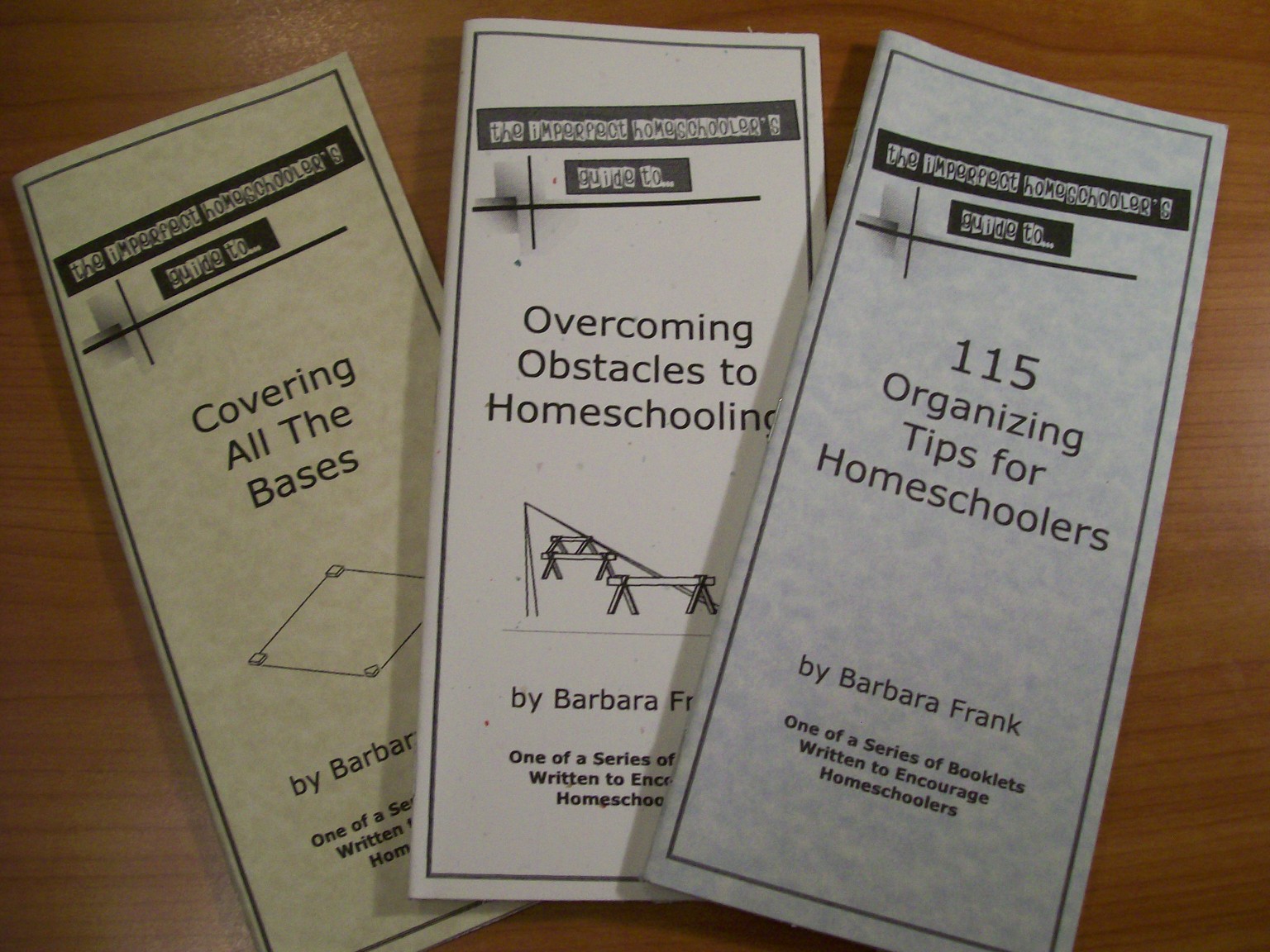 While unpacking from our recent move, I found a box of homeschooling booklets we used to sell for $5 each at homeschool conventions. (They later became part of my book The Imperfect Homeschooler's Guide to Homeschooling.)
I don't have room to keep these here, so I'm offering them FREE on a first-come, first-served basis. Just send me a self-addressed business (4 1/8″ X 9 1/2″) envelope stamped with TWO first-class stamps, and I'll send you a booklet. THIS OFFER IS ONLY GOOD WHILE SUPPLIES LAST. You can request a specific title and if we still have copies left, you'll get it. Otherwise, it's potluck. 🙂
The booklets are:
115 Organizing Tips for Homeschoolers
Need help getting organized? This 34-page booklet is packed full of proven ideas for:
Getting your homeschool organized
Establishing a homeschool filing system
Running your home
Living (and homeschooling) with small children
Keeping up your energy
Learn to handle the many responsibilities and challenges that come with being a homeschool mom.
Covering All the Bases
Do you ever ask yourself:
How do I know if we're studying the right subjects at the right times?
Are we covering all the bases?
What are the bases anyway?
Are we using the right materials?
Are my kids doing OK?
This 30-page booklet includes information about curriculum choices, Scope and Sequence, and achievement testing, as well as tips for designing your own curriculum.
Overcoming Obstacles to Homeschooling
Do you struggle when it comes to homeschooling? Are there obstacles in your way? This 30-page booklet covers topics including:
Defeating the habits that keep you from working with your children
Dealing with relatives' disapproval
Thriving despite personal or financial difficulties
Boosting your homeschooling confidence
Discover the personal habits and traits that may be holding you back, and learn how to eliminate them. Don't let obstacles keep you from homeschooling!
HOW TO ORDER
Just send your SASE (remember, you'll need two 44-cent stamps on your SASE because these booklets are big) to:
Cardamom Publishers
P.O. Box 743
Janesville, WI 53547
(Feel free to share this offer with your homeschooling friends.)