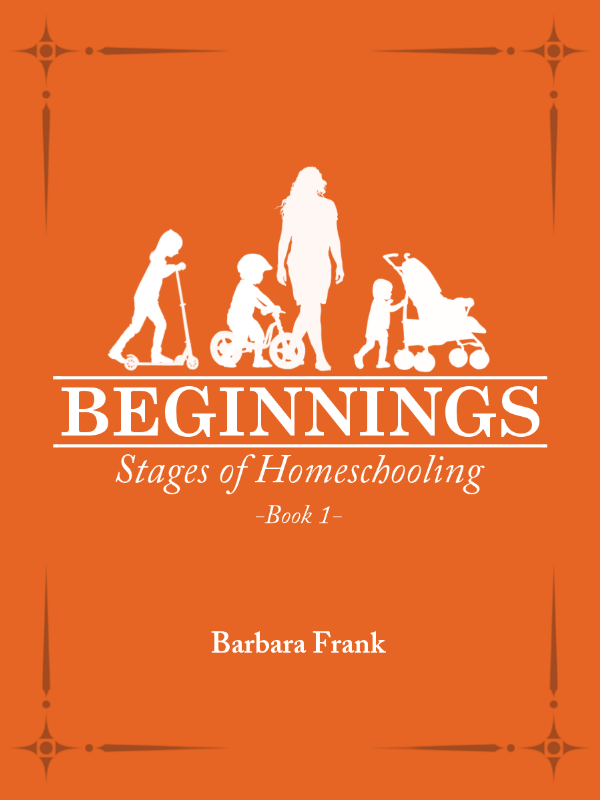 Hot off the press, it's Stages of Homeschooling: Beginnings, almost  200-pages' worth of my best homeschooling articles and essays collected especially for new homeschoolers as well as those who are thinking about joining the rapidly growing ranks of homeschooling parents.
This is the first of four eBooks in the Stages of Homeschooling series. The rest are:
Stages of Homeschooling: Enjoying the Journey (Book 2)
Stages of Homeschooling: Letting Go (Book 3)
Stages of Homeschooling: The Empty Nest (Book 4)
Stages of Homeschooling: Beginnings is available only through Amazon as a Kindle book. It's $4.99, or free if you're an Amazon Prime member.
Don't have a Kindle? No worries: just download "Kindle for Your PC" (it's free; step-by-step instructions are right here.)
Want more info? Here you go:
Are you thinking about homeschooling your child, or have you just recently begun homeschooling?

Are you looking for practical information from someone who's lived the homeschooling life?

Do you need evidence (for yourself or for relatives and friends) of why you shouldn't send your child to public school?

Are you looking for homeschool encouragement?

If you answered "yes" to even one of those questions, then Stages of Homeschooling: Beginnings is for you. Having spent 25 years homeschooling her four children (including one with special needs), writer Barbara Frank wants to encourage and inform those who are just beginning the homeschool journey.

This book is divided into seven sections:

 "Why Choose Homeschooling?" (Great reasons to homeschool your children)
"What's Wrong with Public Schools?" (Why today's public schools make homeschooling more attractive than ever)
"Advice for New Homeschoolers" (Homeschool how-to's and suggestions)
"Surviving the Early Years" (Teaching your preschoolers)
 "Becoming a Homeschooling Parent" (Taking on your new role)
"Handling Doubts, Fears and Hurdles" (Because the prospect of homeschooling can be daunting, especially at the beginning)
"Nobody Told Me" (Barbara shares some unexpected benefits of homeschooling)

This book will show you that homeschooling is a great choice for your family.