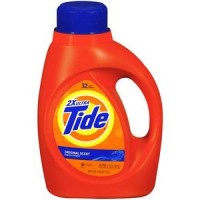 So the laundry detergent Tide has become a popular target for thieves. Who knew? Seems to me that Tide's neon orange bottle would be hard to hide, but apparently people are making Tide disappear quite easily, even stealing multiple bottles at a time.
My favorite part of the article describing this trend is the quote from the manufacturer:
"We don't have any insight as to why the phenomenon is happening, but it is certainly unfortunate," said Sarah Pasquinucci, a spokeswoman for Procter & Gamble.
Guess I'll have to clue P&G in so they can solve this mystery: You charge too much for Tide! No one likes spending $10 or more on a bottle of laundry detergent. Hence the increase in theft and the use of Tide as payment for drugs and other illegal activities.
Those of us who aren't inclined to steal have a different reaction to the ever-increasing price of detergent: we're making our own. And it turns out that it not only saves us a bundle, but it's healthier for our families because it doesn't have all those unpronounceable chemicals in it.
A quick search for "homemade laundry detergent" will net you an amazing number of results on the search engine of your choice. I like this one.
I've been making my own liquid laundry detergent for a few years now and love it. Recently I began making powdered detergent in my food processor and I like that, too: now I use liquid for cold water loads and powder for warm/hot water loads. My current homemade powdered detergent is lavender-scented. It makes me smile every time I use it. And now that it's warm enough to hang out the wash, my laundry joy is complete. Take that, Procter & Gamble!