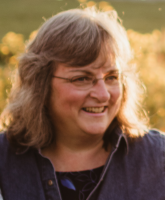 Welcome to my website. I'm a writer, editor and publisher. My most recent book is Life Prep for Homeschooled Teenagers, Third Edition (2017).
I've written books, curriculum and magazine articles related to homeschooling; I homeschooled my four kids (including one with special needs) from birth through high school. My work has appeared in Focus on the Family Magazine, The Old Schoolhouse, Wisdom Magazine and many others. I have a Bachelor's degree in Journalism from the University of Illinois/Urbana-Champaign.
From 2004-2011, I published the "Imperfect Homeschooler" newsletter.
Since my youngest child finished homeschooling in 2011, I've been busy writing in other areas as well as publishing the works of others via Cardamom Publishers (est. 2003).
Christine Field's Interview with Me at Crosswalk.com
My Books
Life Prep for Homeschooled Teenagers, Third Edition (2017)
Women of the Old Testament: 14 In-Depth Bible Studies for Teens (With Mother-Daughter Discussion Starters)
Thriving in the 21st Century: Preparing Our Children for the New Economic Reality
The Imperfect Homeschooler's Guide to Homeschooling
My E-Books
Stages of Homeschooling: Beginnings
Stages of Homeschooling: Enjoying the Journey
Stages of Homeschooling: Letting Go
The Imperfect Homeschooler's Guide to Homeschooling
A Few of My Articles
Homeschooling Can Change Your Life
Recognizing Your Hidden Curriculum
~~~~~~~~~~