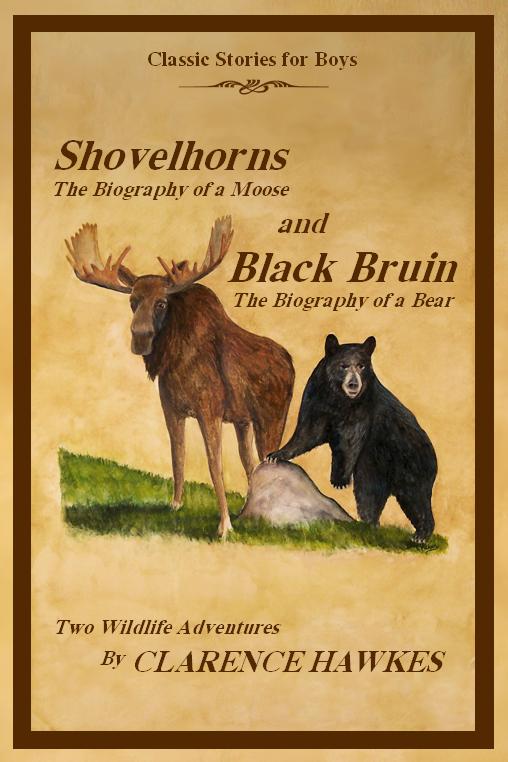 We have a new book out just this week. And my husband painted the cover art! Learn more about this "new old" book below:
Do your boys enjoy reading? Do you have trouble finding books that catch their interest and are good for them to read? Then you'll love Shovelhorns, the Biography of a Moose, and Black Bruin, the Biography of a Bear, two classic novels in one new book.
These two wildlife animal stories will captivate your boys. These aren't namby-pamby tales but realistic adventures written by naturalist Clarence Hawkes in the early 1900's: classic stories which boys will enjoy.
Best of all, you'll get two of Clarence Hawkes' wildlife adventures in one book. Readers of all ages will love these stories, but especially boys who enjoy the outdoors and stories that don't hold back from telling about the life and death struggles that occur in the wild.
Shovelhorns, the Biography of a Moose, first published in 1909, is the story of a moose in the harsh woods of New Brunswick, Canada. Relive the life of this moose as he grows from a small calf to a great bull moose. Learn how his mother protects him from a fierce wolf pack. As he matures, he experiences his own adventures and battles, including his be­friend­ing by the son of a Northern hunting guide, and the inevitable time in his life when he must prove he is deserving of the title "King of the Wilderness."
Following this story is another exciting adventure. Black Bruin, the Biography of a Bear, first published in 1908, is the story of a black bear in northern New York. You'll be hooked from the start as you read the exciting circumstances of how Black Bruin becomes part of a young farmer's family. This black bear from the wild desires freedom, and his strength and appetite bring him constant conflict. You'll be enthralled reading the many trials Black Bruin faces as he strives to be "King of the Mountain."
Clarence Hawkes' storytelling will keep your boys (and you) turning the pages and wanting to read more of his wildlife adventures from this exciting era. Both stories are beautifully illustrated by Charles Copeland.
DOWNLOAD TWO FREE SAMPLES FROM THIS BOOK HERE: http://www.cardamompublishers.com/stories-for-boys.htm