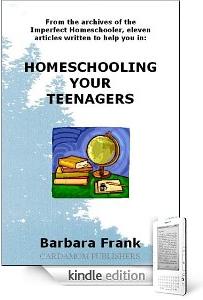 Are you intimidated by the thought of homeschooling your kids all the way through high school? I was.
Do you worry that you're not up to the challenge of homeschooling your teens? I did.
Do you wonder what it's like, living with teenagers every day? I was pretty curious about that myself.
I never thought I'd homeschool my children all the way through high school. I wasn't even sure I could do it. But I did, and I'm sure glad I did. But it wasn't always easy, and there were times when I needed some encouragement.
You can have that encouragement, and get a little peek into the world of homeschooling teenagers in the process, with "Homeschooling Your Teenagers." It's an eBook with eleven articles* from the archives of "The Imperfect Homeschooler." These articles are no longer available online….but you can have them for yourself now in Amazon Kindle eBook format for only 99 cents (reg. $7.95) by clicking here.
*Plus, there's a list of links to online resources that will help you homeschool your teen for free!