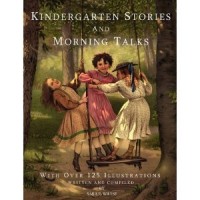 This is it: the final giveaway! It sure has been fun giving away books, and it helped pass those last few gray weeks of winter 🙂
Kindergarten Stories and Morning Talks With Over 125 Illustrations is our new old book. It's an 1890 kindergarten story curriculum that we've republished, making it larger and easier to read, and adding illustrations to make it a great read-aloud curriculum for children.
This book started selling as soon as it was published: it's been so exciting to see people's response to it! Diane Lockman, new classical method columnist for Practical Homeschooling magazine, said on her blog:
"Kindergarten Stories and Morning Talks is sure to please your young homeschooler as you snuggle and read about animals, nature, fairy tales, fables, and even how old-timey household objects were made and chores were performed like how to churn butter…. Especially interesting to me are all the references to what we now call "homesteading" and the lost art of homemaking from scratch with whatever resources you have on hand at the time.  My mother-in-law would love this classic storybook, and I'm sure that she would stop every now and then and tell stories from her own childhood.  In fact, this would be a great gift to purchase for read aloud time at granny's house."
Here's your chance to get this new book for free. Just leave a comment to this post answering this question: what's the best thing about homeschooling with classic books?
Leave your comment here before midnight on Friday, April 23 to enter the drawing. Good luck!