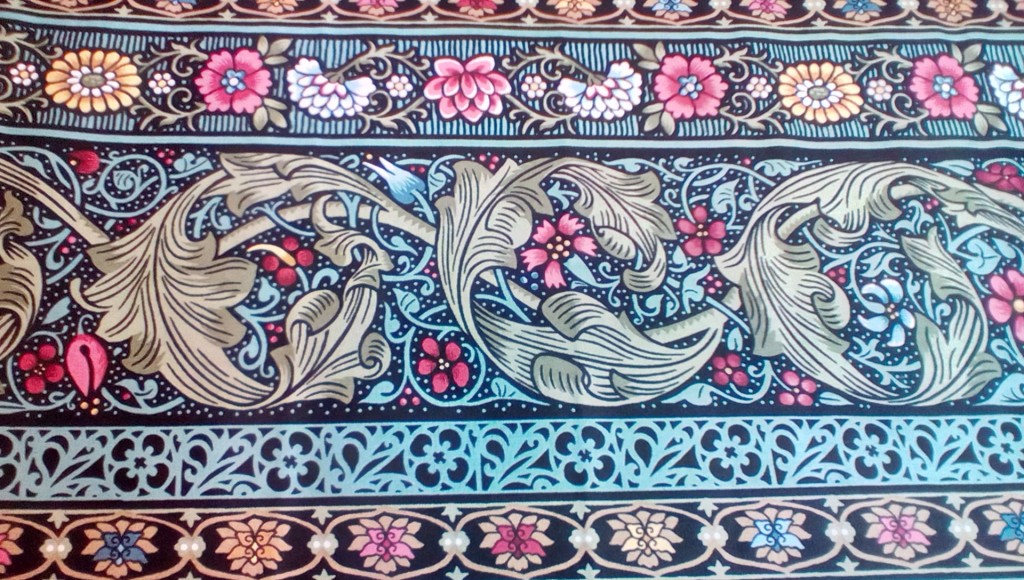 Isn't this gorgeous? I bought it not long ago from Hancock's of Paducah, one of my current favorite sources of fabric. I haven't decided what to do with it, but I suspect I won't be able to make myself cut into it, so it'll probably become the backing on a table runner. That way I can see it on my kitchen table every day.
My love affair with fabric began when I was a girl. I took a park district sewing class where I made myself a corduroy jumper, and then Home Economics in junior high, both of which required my mother to take me to a fabric store. It was love at first sight! All those rows of fabric bolts made me swoon.
After seeing my interest in sewing, my grandmother took me on the bus to Marshall Field's downtown, where she bought me my first pattern, for making doll clothes, which I still have: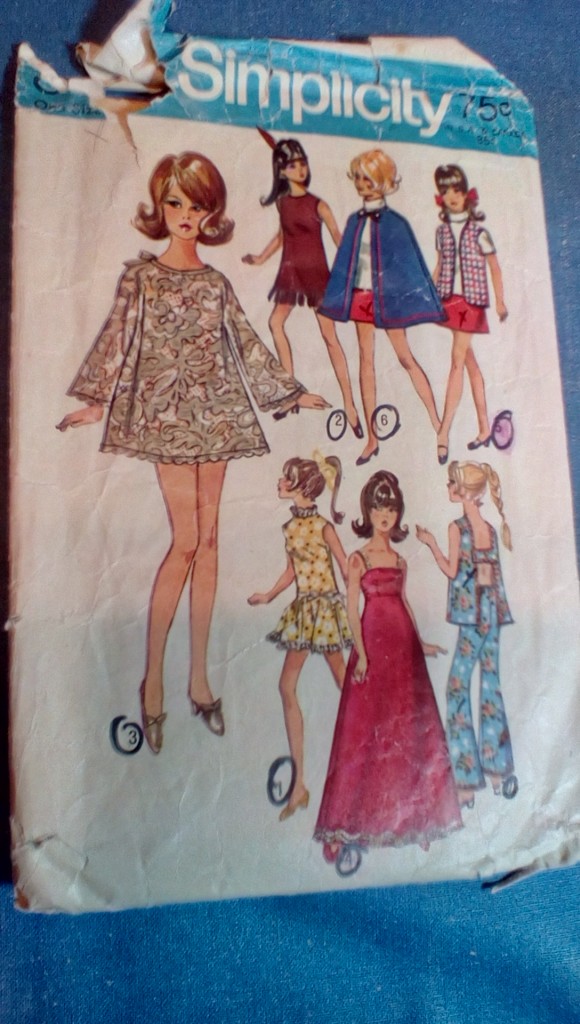 During one of my regular visits to Anna, Illinois, where my other grandmother lived, I discovered a small fabric store in town where bags of fabric remnants cost a quarter. I'd save up my allowance (a dime a week) so that I could buy some bags to take home. I used the remnants to make doll clothes for my sisters and me. I discovered that once you get good at making doll clothes, making people clothes becomes easier, because they're so much larger.
Meanwhile, my Chicago grandmother, who lived in a brick bungalow on the South side of Chicago, decided to move to the suburbs, so she no longer needed the gorgeous pink cabbage rose curtains that had graced the windows of her bedroom in the old house. Guess who got them? I made my sisters and I maxi skirts out of them. We'd wear them around the house after school and think we were really cool 🙂
All through high school, I sewed for the fun of it. I took my sewing machine with me to college; when I became stressed from studying, I'd take a sewing break. Bliss!
I got married while I was in college; after we graduated, we moved back to the suburbs and bought a house. Now my love of fabric kicked into overdrive. We needed towels, sheets and curtains. I'd stop by TJ Maxx or Marshall's on my way home from work and come out loaded down with gorgeous bed and bath linens. I also made window treatments for most of our windows. It was so much fun, and back then, it seemed like there were endless gorgeous designs.
These days most towels, sheets and decorator fabric bore me: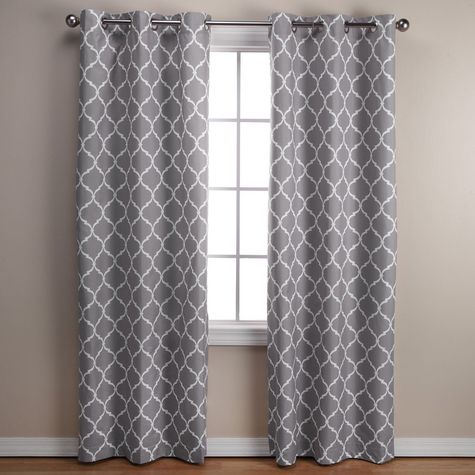 There is little charm or originality in today's designs. Much of it looks the same wherever I go. But when I shop in quilt stores or on quilt fabric websites, I find gorgeous fabric with all kinds of designs. There are even reproductions from different eras.
I've also found that estate sales are a good source of vintage fabric. When I find a lovely piece of fabric, sturdy Made-in-the-USA stuff from the mid-20th century, it's like finding a treasure. I've made things for my grandchildren out of vintage fabric; it's a joy to work with, and wears like iron. I just made my newest grandchild a crib sheet out of a lovely vintage sheet. So pretty!
Each spring, the Salvation Army in my town holds a fabric sale. Picture a large vacant storefront filled with donated fabric and craft supplies (all proceeds go to the Salvation Army). On the first day of the sale, there's a very long line of women waiting to get in. Hundreds of women attend this sale every year, and I'm one of them. It's so much fun, and I always come home with bags and bags of treasures to play with.
If it weren't for vintage and quilt fabric, I might have fallen out of love with fabric (heaven forbid!) Instead, the love affair continues.